So you're going to be a Dad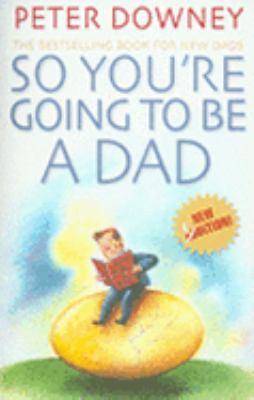 So You're Going to be a Dad is a book that explodes the myths – a tough, uncompromising, no-holds-barred, no-beg-your-pardons look at fatherhood, from the sperm that started it all to the sleep deprivation you'll suffer as a consequence. In his wry and very funny style, Peter Downey tells all about the trials and joys of parenting, including advice about pregnancy, childbirth and baby care, and examines issues of vital importance such as:
what to say – and what not to say – when you hear the news
taking care of mums-to-be
why embryos look like the monster in Alien
names not to call your baby
what childbirth feels like
how many cameras you should take to the birth
'Who was the superior Batman: Michael Keaton or Adam West?'
your baby's development
baby-proofing your home
how much this is all going to cost
and lots of stuff about sex
But that's not all! Complete with a glossary full of handy words new dads will need to know and a lot more that they won't, plus the films to watch and the ones to avoid, and words of wisdom from real live fathers, So You're Going to be a Dad is without doubt one of the greatest parental education books ever written.